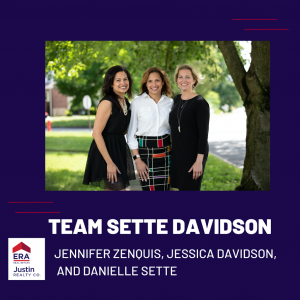 The Benefits of Working with a Team to Sell Your Home
When it's time to sell your home, you need the experience, industry knowledge and local market expertise that only a real estate professional can provide. But what additional benefits does working with a real estate team offer to you, as a homebuyer or seller? And does your choice of real estate companies make a difference?
The answer, of course, is YES. Danielle Sette, Jessi Davidson and Jennifer Zenquis of Team Sette Davidson explain the benefits of working with their team — and all of the team — at ERA Justin Realty.
Increased Accessibility
When one member is unable to take your call or show you a property, there is another agent available to assist you. "In addition to having Team Sette Davidson at your service, we are also supported by an 'agent on call' at the ERA Justin front desk to make sure that no call goes unanswered," Danielle explains, continuing, "And that also means we are more likely to connect with any interested buyers."
Greater Pool of Knowledge
"When clients work with our team, they have access to our collective experience and expertise," Jessi points out, adding "It's a tremendous asset to share best practices for serving our clients with our broker and co-workers at ERA Justin."
"Having a second opinion is always a benefit to the consumer," adds Danielle. "That's why we also ask all the agents in our office to preview new listings through 'caravan' and offer their price opinions. This way the consumer benefits from our entire office's expertise as well."
Streamlined and Effective Negotiation Process
"With so many moving parts, having a team on your side will help ensure that nothing gets lost in the shuffle," says Jessi.
"Not only are we able to discuss and bounce ideas off each other, but we have the backing of the entire team here at ERA Justin," notes Jennifer. "When it comes to setting a price, making an offer, or coming up with leverage in a negotiation, we can tap into the collective knowledge, experience, and connections of the many experienced agents in our office."
To find out how Team ERA Justin can support your home buying or selling needs, contact Team Sette Davidson, or any of our experienced sales professionals, at 201.939.7500 or stop by our office located at 118 Jackson Avenue in Rutherford.